Citrix SD-WAN Centre is a centralised management tool that enables you to configure, monitor, and analyse all the Citrix SD-WAN appliances on your deployment.  Citrix SD-WAN Centre is a virtual appliance that can be installed on ESXi, Hyper-V and XenServer virtualisation platforms. It can also be installed into Microsoft Azure and AWS cloud environments.  If you have a large deployment with multiple regions (RCN's etc.) then you will need SD-WAN Centre Agents in each of the regions to feedback centrally.
Citrix SD-WAN Centre, as stated above, currently provides both "on premises" and "cloud based" centralised management for your Citrix SD-WAN deployments. However, with the recent announcements of some very interesting and exciting new features (Edge Security for one) in the Citrix SD-WAN v11.2 firmware (see my recent v11.2 blog 😊) we see that some are only available using Citrix SD-WAN Orchestrator.
This starts to make one think, "If I want that feature I'm not only going to have to upgrade to v11.2 but I 'm going to have to move over to Orchestrator and if I do that, what is there and what does it give me"?
Citrix SD-WAN Orchestrator
Citrix SD-WAN Orchestrator is a cloud-hosted, multi-tenant management service available to both customers and Citrix Partners. Citrix SD-WAN Orchestrator provides a single-pane of glass management platform for Citrix partners to manage multiple customers centrally, with suitable roles based access controls.
For a brief overview watch the following YouTube video on Citrix TV, it's quite old but gives a basic look and feel of Citrix SD-WAN Orchestrator.
Citrix SD-WAN Orchestrator is a most excellent tool to manage your Citrix SD-WAN environment.  A dashboard to view you whole network, see what devices are online/offline, any alerts and how your links are performing both underlay and overlay.

Central configuration, Global Setting, firmware versions and sites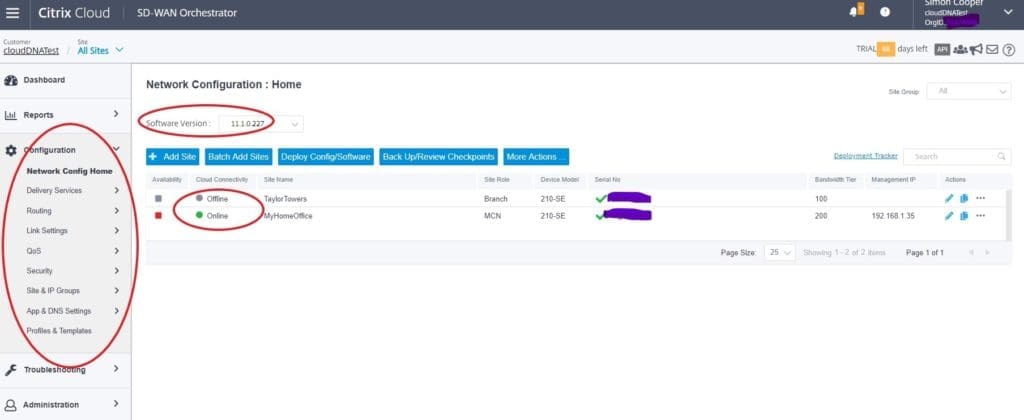 Site specific configuration such as basic settings, interface details, WAN links and routes. Set up HA pairs and a neat display of the device configuration on the right as you define your site settings. Advanced "site specific" settings such as DHCP, VRRP DNS etc.
Zero Touch Deployment
Citrix SD-WAN Orchestrator makes deploying devices very simple. As part of the configuration you enter the serial number of the remote device and as soon the Management interface of that remote device (or LTE link if available) connects to the the internet Citrix SD-WAN Orchestrator will deploy the configuration. No need to have IT skilled personnel at remote sites. Great for first time deployments and replacement devices.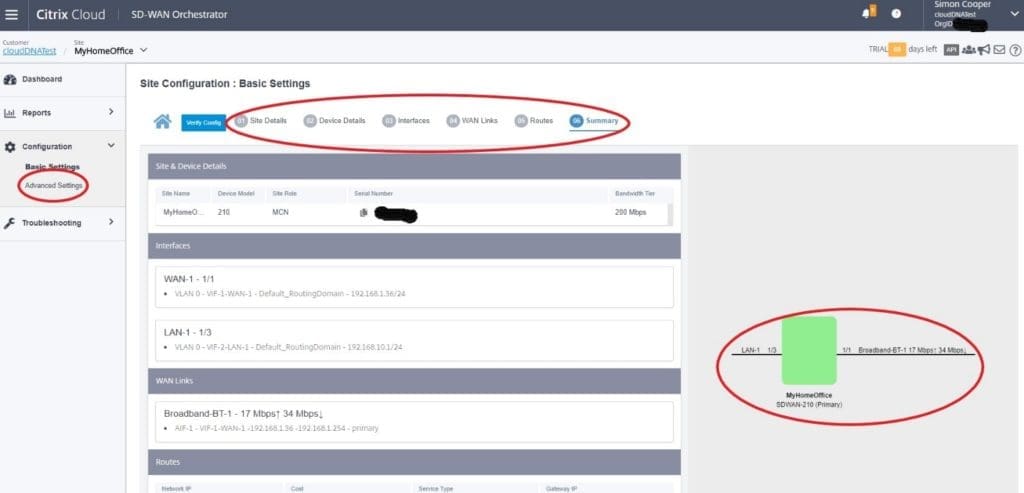 Reporting, "If you can see it, you can measure it. If you can measure it, you can manage it."
A centralised reporting tool to display information on all traffic passing through the Citrix SD-WAN appliances, displayed from an overall network or site specific perspective. Alerts – device to link failures, application usage known and unknown applications, network usage, QoS, historical and real time stats and some very useful O365 reports.
And finally some basic troubleshooting tools. Review logs on all the remote appliances, important Audit logs to know who did what and when and some diagnostic tools that can be run on remote devices from the central location to help fault find.
However, being cloud based is not the ideal solution for everyone.
With the recent release of Citrix SD-WAN Firmware v11.1.1 Citrix are introducing Citrix On-prem SD-WAN Orchestrator.
Citrix On-prem SD-WAN Orchestrator is the on-premises software version of the Citrix SD-WAN Orchestrator service. You can establish a connection between your Citrix SD-WAN appliance and the Citrix On-prem SD-WAN Orchestrator by enabling Orchestrator connectivity and specifying the On-prem SD-WAN Orchestrator identity.

NOTE:
Citrix On-prem SD-WAN Orchestrator (as at June 2020) is not currently available.
Zero-Touch Deployment will not work if On-prem SD-WAN Orchestrator Identity is configured on the SD-WAN appliances.
This at first sight this would seem to be quite cool.
Thinking about it, once up and running to have the management and monitoring of the Citrix SD-WAN Orchestrator on Prem is great. However, the initial onramp could be fiddly. These are just my thoughts and I would need to confirm through usage but without the Zero Touch Deploy you will have to perform the initial configuration and deploy the configuration manually to the remote devices. Then configure them, as per the above screen shot, to point back to the on prem Orchestrator then you have the central control and reporting.
FIND OUT MORE
If you would like to talk to us about any of the points raised above or you would like a demo, please call 0330 010 3443 or email hello@clouddnagroup.com.