NetScaler 5xxx and 8xxx EoL
The popular NetScaler (formerly Citrix ADC) 5xxx and 8xxx series hardware chassis become End of Life (EoL) on the 1st of January 2024 after which time, vendor support will no longer be available.
Back when these were new, the licence key was tied to the machine so when the hardware is no longer supported, the licence effectively expires and a replacement is required. Like all things computing, the physical hardware has a finite lifespan. While the box may not have broken, the software that runs on it has usually evolved to demand more computer power than the chipset and other resources can manage. This is currently the case for the entry level MPX 5550 & 5650, the MPX 8005, 8010 & 8200 and the MPX & SDX 8015, 8400, 8600 & 8800 derivatives.
Six years is a long time in IT
NetScaler appliances that become EoL have not been offered for sale for at least 5 years. This suggests that many NetScaler MPX and SDX appliances were specified before that time, possibly 6 or 7+ years ago.
Service delivery looked very different back then, with many organisations spending the time since 2017 going through rapid digital transformation projects to respond to Covid19. There's also a general increase in hybrid cloud service delivery adoption, involving traditional data centre, co-lo and public cloud hosted resources significantly changing the landscape. From resilient global cloud ingress, to secure microservice API gateways, NetScaler has evolved to provide an efficient way to meet the service delivery objectives of all organisations of all sizes.
This fundamental change in the way services are delivered, combined with a forced hardware refresh, provides an opportunity to review how NetScaler is being used, the RoI the platform provides, and ultimately, what choices are available to gain the maximum value from the replacement.
MPX 5550 & 5650 upgrade path

The logical replacement for the MPX 5550 or 5650 is the 5900 series hardware, which has been around since 2017 and as the entry level physical option, is the like for like equivalent device. It's available with a single instance (MPX) capability. There's no End of Sale announcement currently, so there's at least 5 years supported production life in any purchase in line with vendor lifecycle milestones.
NetScaler 5900 series hardware can handle over 2x the encrypted traffic of the legacy appliance, giving the ability to increase security posture to further enhance service protection.
Zero Capacity hardware
Unlike previous times, all new 5900 series hardware is supplied as Zero Capacity – the physical 'box' is therefore very low cost as it won't do anything without the appliance licence. In the new world, the NetScaler licence is a subscription which is procured with the hardware, but not tied to it in the traditional sense. There's a good reason for this which we'll come back to later. This 'Starter Pool' licence (available in 1Gb, 5Gb or 10Gb HTTP t/p) is specified to provide the functionality and capacity required to deliver the service objectives. The headline is based on HTTP throughput but there are a number of metrics that need to be taken into consideration to get the balance of cost and functionality right.
MPX 8000 series upgrade path
The higher-powered NetScaler 8000 series hardware had the ability to be deployed as either a single instance MPX or a multi-tenant SDX to run multiple virtual NetScaler instances on the same physical appliance. Organisations looking for a direct replacement for the MPX 8005, 8010 & 8200 or the MPX & SDX 8015, 8400, 8600 & 8800 should consider the recently introduced 9100 series hardware which again offers increased capability over the legacy equivalents. In every migration we've delivered to date, the performance difference with the new 9100s is noticeable.
As with the entry level device mentioned above, the 9100 hardware is supplied with zero capacity and needs to be specified with a Starter Pool licence per physical node, but what is the Starter Pool and what's the point?
NetScaler Pooled Capacity – the Starter Pool
The Starter Pool subscription basically unlocks the capacity and functionality of each hardware node purchased and, in that respect, has vague similarities with the old perpetual licence model. The key difference is that the Starter Pool forms the basis of a more flexible Pooled Capacity licence adoption which makes it both easy and cost effective to deploy multiple NetScaler instances across physical and virtual form factors in all hybrid cloud locations. Add more instances and throughput to the Starter Pool to deploy additional nodes where required across any of your resource locations for simplified HMC service delivery.
NetScaler VPX – time to go virtual?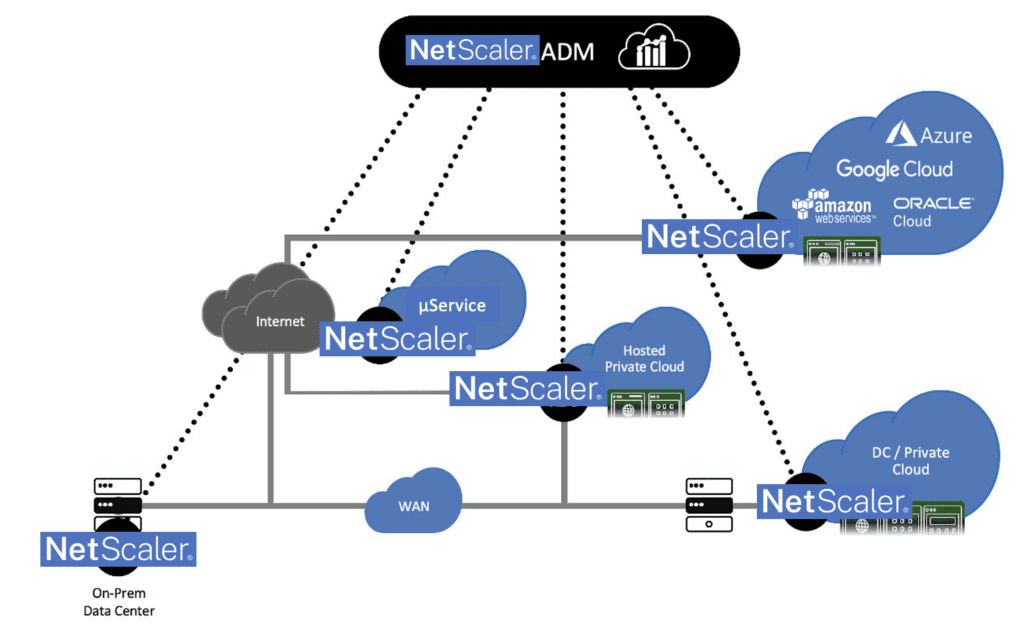 While the predictability of hardware has value in the physical rack deployment use case, the true value of NetScaler is in the software, which is the same code base if you run physical or virtual NetScaler instances. Virtual (VPX) NetScaler popularity continues to grow as the form factor provides greater flexibility for HMC deployment scenarios, automation and portability. It may be a good time to consider moving away from dedicated network hardware.
Our NetScaler EoL Advisory Service
With so many chances NetScaler EoL Advisory Service. A review of your service objectives, analysis of configuration and a clear guide as to your options when you retire your legacy hardware.
We'll recommend the correct appliances to efficient deliver your services, without paying for features or capacity that you don't need. You'll get a clear understanding of compatibility risk when migrating from old to new, including hardware specific considerations where applicable, plus a guide on how to improve RoI with new feature adoption.
We've built supply and migrate packages for popular options, to make it easy to adopt our recommendations with bespoke remediation estimates if you'd like us to tidy things up while we're there.
There's no cost for you to hear the thoughts of our NetScaler specialist team, but it's a great way for us to show you why we're chosen by some of the UK's leading brands to look after and enhance their NetScaler investments.
NetScaler 12.1 EoL – 30th May 23
NetScaler (formerly Citrix ADC) 12.1 software will no longer be supported from May 30th 2023, as the previously announced End of Life (EoL) notification is actioned by the vendor. While our managed service and SME on Demand programmes have this covered for our supported customers, we've had a few inbound enquires from IT teams who are a battling a busy schedule and still need to get 12.1 upgraded.
If this sounds like you, we've pulled a few things you need to know into this 2 min read – NetScaler 12.1 EoL. Want help now? Get in touch.
NetScaler Product Lifecycle Matrix
Information on the latest NetScaler product lifecycles can be found here
Sound good?
Get in touch and book a session with our inhouse NetScaler specialist team. Call 0330 010 3443 or mail hello@clouddnagroup.com.